Meet our EI Canada Board Members
They are faithful in service and in the work of Emmanuel International Canada. We are proud to call them Board Members.
Rob Fish
Rob joined the board in 2006 and has been the Chair of the EIC board since 2019. Rob's education has been focused in the area of Business Management becoming a Certified Management Accountant in 1992. Rob's career has included working at Tyndale University College, The Gideons International in Canada, Inter-Varsity Christian Fellowship, Partners International, Baycrest Foundation and is currently the Executive Director of Stewards Canada, a ministry that provides mortgages to churches. Rob lives in Brampton with his wife Sherri. They have a son, Kenneth.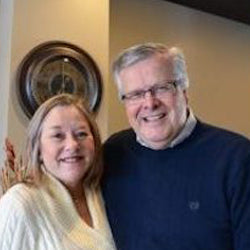 Bob Flemming
Bob graduated from Central Baptist Seminary in 1979 and served as a Youth Pastor at Forward Baptist Church from 1979-1982. He moved to Springvale Baptist Church in Stouffville and served for 28 years as Senior Pastor. Bob was the Central Regional Director for the Fellowship for 10 years and continues to serve the region in a part-time capacity. Bob and his wife Rhonda have two adult married children, Jessica and Hannah, and enjoy spending time with their grandchildren, Jackson, Ario and Esta as well as playing golf, tennis and fishing.
Sheila Reid
Sheila was elected to the EIC Board March 2022, she lives and works in the GTA as an administrator for a local elementary school. She has been a long time member of Rexdale Alliance Church. Having studied vocal music al Wilfrid Laurier University in Waterloo, she is currently serving on the worship team at her church, along with marriage mentoring, small group and discipleship ministries. Sheila looks forward to serving on the EIC Board and learning more about the projects supported by EIC, meeting and serving in difference capacities and trusting her gifts in administration and organization will be a positive contribution to EIC.
Josh Shurr
After Josh graduated from an Environmental Engineering Technology program, he served in Malawi with EIC for 2 years where he met his wife Mary Jane. In 2002, they both served in Uganda for another two years. He has worked with World Vision Canada and is currently with the Regional Municipality of Halton. Josh served as an EIC board member from 2008 to 2013 and is honored to serve once again. Josh, Mary Jane, their two sons Elias and Andrew and their dog Lucy attend the Meeting House Church where they are elders and lead a small home church.
Brian Simcoe
Brian was elected to the EIC board in 2020. Over the past 25 years he has visited various EI projects starting with Haiti in 1999 and Malawi in 2018. He served with Springvale Church from 1988 to 2002 in Youth Ministry and continues to volunteer there. He was the Director of Youth at FEB Central for 9 years, and now works fulltime at NAV Canada in the Learning Training area. Brian and his wife, Jennifer look forward to continuing to support EI through their involvement with the Board.
Sonia Wiebe
Sonia was born in Hampshire, England and moved to Ontario at age 23 to work as a physiotherapist. Her passion for missionary work includes her belief that she is on the mission field daily during her day to day interactions and a short-term visit to Haiti and Malawi to observe the work that EI is involved in. Her connection with EI reaches back to the first church she attended, Rexdale Alliance, where she met Lorilee & Scott Maclean (Missionaries serving in Malawi). Lorilee was her mentor during her early years as a Christian. Sonia, her husband Ziggy and daughter, Katie, live in Stouffville. She joined the EIC Board in 2019.
Keith Wilson
Keith was elected to the Board in 2018. He met Richard (EIC Director) and Pam (EIC Finance Office) McGowan shortly after their arrival from the UK in 1971. Keith spent most of his working career at IBM and is now focused on helping others as he seeks to live out the great commission. Keith is excited to serve in this important ministry as he has seen the opportunities that Emmanuel International has been given around the world.