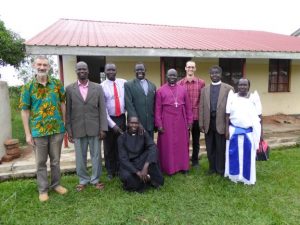 Community Health Empowerment (CHE)
Uganda
Please enter your donation amount in the box below before selecting Add to cart.
---
CHE (Community Health Empowerment) is a ministry model for equipping churches to meet the physical and spiritual needs of their communities. The CHE model was pioneered in southern Uganda during the mid-1980s and has spread to over 90 countries. In other countries, it is sometimes known under different names, such as Community Health Evangelism or Christian Health Ambassadors.

The CHE model utilizes an effective adult education method that is discussion-based and catered to learners who may not know how to read. This method is taught to community/church volunteers who become Trainers of others in their communities. The key principles of the ministry are:
Multiplication through the training of Trainers

Integration of physical and spiritual teaching
Local needs assessment and decision-making
Formation of mentorship structures that facilitate discipleship
By teaching church volunteers how to teach others, and helping them lead their communities through their own local needs assessments, communities receive teaching based on their own perceived learning needs. The CHE Trainers are connected by the ministry coordinators to a database of over 5,000 lessons, on physical topics such as hygiene, nutrition, malaria prevention, improved agricultural techniques, microbusiness, and spiritual topics such as the core gospel message, living a Spirit-filled life, love and forgiveness, strategy for marital faithfulness, parenting youth, and more.

In CHE, we do not teach physical lessons simply to make people open to hearing about Jesus. We truly believe that communities will remain pulled down into poverty unless all of the destructive physical and spiritual roots are addressed – from lack of knowledge about disease theory, to bondage in shame and fear. We believe that good health is rooted in restoration of healthy relationships between people, with the environment, within oneself, and with God.

Because of the multiplication structure of the CHE model, CHE can continue indefinitely for years after the initial training phase is completed, with very little outside inputs. It is a truly sustainable and locally owned ministry.